Diehard Seinfeld fans know that Jerry Seinfeld is a huge New York Mets fan (both on the show and in real life). With the baseball season heating up, let's relive some of the greatest baseball moments in the iconic show's history.
The first mention of baseball in the Seinfeld universe comes in the pilot episode of the series, "The Seinfeld Chronicles", when Jerry answers his telephone simply by saying, "if you know what happened in the Mets game don't say anything I taped it, hello". Of course, this gets ruined by Kessler, the pilot's version of Kramer, who barges in as soon as Jerry gets off the phone to say, "Boy, the Mets blew it tonight huh!?!"
The Seinfeld Chronicles had an example of how baseball is used as humor in dialogue between characters, but the episode "The Boyfriend" is centered around Jerry's boyhood idol and Mets great Keith Hernandez.
A main storyline in the episode "The Letter" is Elaine, George, and Kramer getting seats in the owners box at Yankee stadium and Elaine refusing to take her Orioles cap off.
In the episode, "The Chaperone" Jerry meets Miss Rhode Island at a baseball game and ends up going on a date with her, with Kramer as the chaperone of course.
George takes a job with the New York Yankees for a whole season of Seinfeld, and this leads to cameo's by Derek Jeter, Buck Showalter, Danny Tartabull, and even brings the spotlight into a recurring fictional George Steinbrenner character.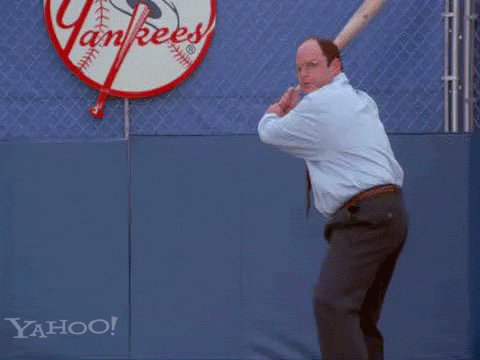 The penultimate episode of the series, "The Puerto Rican Day" features the gang leaving a baseball game early and Jerry trying to find a creative way to watch the game while stuck in traffic.
What baseball moments did I miss in the Seinfeld universe? Surely I missed some, but I think it's pretty cool that Jerry's love for baseball translated so well and so naturally into the series itself.